Reply To: What is the story of your first figure Mithril?
June 18, 2008 at 10:00 am
#2354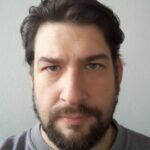 Gildor
I'd rather say, thanks for this community to exist. I just put a little tool in place, I have not done much (in matters of MMP) it is a community work
as for discovering Mithril through RPG. It was the same for me. I discovered RPG and the use of lead figurines, I saw people using (and so I bought) some Ral Partha or Grenadier.. and Mithril… and indeed Mithril quality was far above all the others + it was tolkien related… perfect for me. But I never have, or will, play in Tolkien universe when it comes to RPG. Giving people the opportunity to modelize and alternate Tolkien universe is some kind of blasphemy for me… I thus prefer D&D worlds. at least, these are "meant" to be "built" and modified by playing them.