Reply To: Help needed from Spanish collectors (if there are any interested)
July 29, 2008 at 4:26 pm
#2646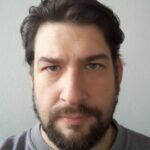 Gildor
I am desperatly trying to contact "Silvie and Martin" at Juegos Sin Fronteras in Spain.
This enterprise sells Mithril and was quite friend with Chris Tubb. I wrote several emails to their official email address but they do not seem to read their mail anymore for quite some months I have a returning error message saying the mailbox is full…
Could someone who speaks spanish or lives in Spain contact them for me please?
their website is there : http://personal3.iddeo.es/juegossinfronteras/mithrile.htm
The questions I am trying to ask them is that :
They quote in their website that the Christmas 1989 IS an "Isildur 32mm vignette". Neither Chris Tubb nor the guys at the Mithril Factory in Ireland do remember anything like this. They simply can't remember this reference… Since Chris told me they were friends of his and all other information from their site is so far accurate, maybe they have the "key" to the Christmas 1989 mystery.
If they could be joined , if they could give us some info about it and … it would be great…. a picture of it… (as they seem to own this figurine) that would be a great achievement for the Mithril collectors community!
Thanks in advance!