Reply To: Credits from The Man concerning Mithril Faerylands
September 23, 2008 at 6:21 pm
#3212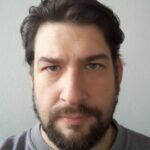 Gildor
I'd like to copy to you, this little part of a mail I received from Chris lately.
Quote:
"I would like to mention one other matter, which concerns you, namely the Mithril Faerylands site that you run. I would like to express my sincere thanks to you for all the hard work that you have taken in creating and running this site and in recording the Mithril range so carefully and meticulously. It is much appreciated. I often use the site when designing ,in order to look at old figures that I may not have to hand, to check on helmet styles swords, shields etc. to ensure that I get the continuity right. I cannot always remember every detail!" (Chris Tubb)
So here it's my turn to thank you all for your help and your encouragements and the pics most of you provided me to fill my database.